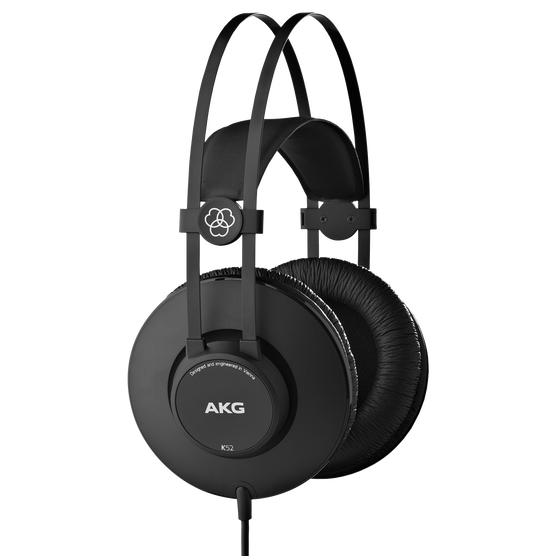 K52
Details
https://id.akg.com/K52.html?dwvar_K52_color=Black-GLOBAL-Current
---
Closed-back headphones
Professional drivers - clear sound in the studio and beyond
Our K52 headphones deliver authoritative, extended low-frequency response that gives definition to kick drums and bass guitars. At the same time, the detail yet precisely balanced high-frequency response reveals the nuance in vocals, guitars and acoustic instruments. Our generous 40mm drivers deliver high sensitivity for powerful output, plus an extended frequency response that reveals every detail. The K52s also feature a low-impedance design for compatibility with a broad range of playback devices, from professional studio gear to portable music players.
Closed-back design - get lost in your sound
The K52 headphones' closed-back design eliminates audio leakage and delivers sound to your ears only. You won't hear the drummer drop his sticks in the middle of tracking - and the mic won't pick up the sound of the click track in your headphones. This exceptional level of audio isolation is due to a new acoustic chamber, which sits between the ear cup and the hinge that connects to the headband. Our innovative design gives you the freedom to move your head in any direction, without letting sound in or out. With the K52, you'll enjoy a private workspace, no matter where you choose to create.
The style that fits all - comfortable listening
Nailing the perfect take sometimes means tracking the same part for hours - and that's where comfort really counts. We designed our unique self-adjusting headband to automatically create the perfect fit for every band member. No need to mess with delicate sizing mechanisms, which have the potential to break over time. The exposed headband design keeps the K52 headphones comfortably light, without compromising driver size. Breathable, lightweight ear pads encircle your ears, rather than putting pressure on them. And a single-sided cable gives you freedom to move. To sum it up, these high-performance headphones sound, feel and look great.
Professional build quality - long live the music
AKG is known for making professional-grade gear that can stand the test of time, and the K52 headphones are no exception. We put them through extreme testing and abuse to ensure they'll handle anything you throw at them: Our regimen of drop-tests simulates exaggerated falls. 80,000 cable bend cycles at both end points ensure the cable won't break or underperform. And intensive driver testing - a prolonged series of 3W bursts each half second - means that the drivers won't fail when you really need them. Since ear pads are often the first components to show wear, we made them replaceable to protect your investment over time. With exceptional performance and elegant design to match, the K52 is built for pros.
The AKG legacy - inspiring greatness for decades
For more than 65 years, AKG has helped create the iconic sounds of some of the world's most well known recording artists, engineers and producers. Our designers and engineers have made it their life's passion to find new ways to deliver breakthrough experiences for artists of all levels. Whether in the studio or on stage, when you wear AKG headphones, you're seconds away from creating history.
Precisely balanced response
Provides reference-monitor accuracy
Large 40mm drivers
For wide 18Hz - 20kHz frequency response
Self-adjusting headband
Ensures perfect fit
Over-ear design and lightweight construction
Provide exceptional comfort
Closed-back design
Maximizes isolation
Professional build quality
2.5m (8.2') cable
3.5mm (1/8") plug
With 6.3mm (1/4") adapter
Your music rocks - make sure you hear every detail with the AKG K52 over-ear, closed back headphones. Professional-grade 40mm drivers reveal even the subtlest nuances, so you can be confident your mix will translate accurately on any system. Whether you're monitoring vocals or tracking a bass line, the self-adjusting headband and lightweight design will provide hours of comfort. Designed by the company whose mics and headphones have helped create some of the world's most iconic recordings, the durable K52 headphones deliver great sound wherever your music takes you.